Mission and History
About "Research Resource Archive, Kyoto University"
"Research Resource Archive, Kyoto University" (KURRA) was established to collect and preserve systematically various materials that were made within educational and research activities in Kyoto University, and to make them available for further activities.
A central feature of KURRA is that it treats materials other than books and specimens: photographs, films, recordings, field books, records of research meetings, lecture notes, and manuscripts, from primary sources. These primary source materials are investigated and registered in the Kyoto University Digital Archive System, and set up for the services. Furthermore, based on the materials, KURRA creates movies which present educational and research activities in Kyoto University, and show them to the public.
KURRA is relevant to education and research activities of all departments of Kyoto University, and for this reason, its action program is decided by the steering committee that consists members from all departments and a chairperson, who is an executive director of the university. Based on the action program, the Kyoto University Museum (a governing department) and Academic Center for Computing and Media Studies operates activities of KURRA, and Institution for Information Management and Communication supports them.
Cf. The stipulation about Research Resource Archive at Kyoto University (A discretionary decision of the president, March 16, 2010)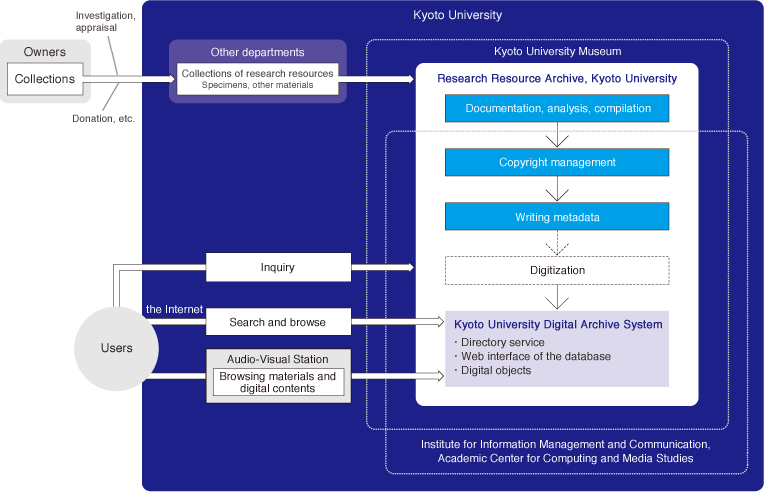 History
The history of KURRA from its beginning to the present is presented below. Please note that names of projects are abbreviated; a project of "Field Video Archive Center" as "FVA", a project of "Digital Archive" as "DA".
| | |
| --- | --- |
| April, 2005 | A prospectus of "Kyoto University Field Video Archive Center (tentative name)" was presented to the president of the day Kazuo Oike. The president's discretionary expenditure for the project was approved. [FVA] |
| March, 2006 | A symposium on "Archival Films Tell Frontier Spirit" was held. A questionnaire survey on archival films and images was carried out. A video product based on archival materials was created. [FVA] |
| April, 2006 | A digital archive project was officially approved by the president. [DA] |
| December, 2006 | "Draft Plan of Digital Archive (tentative name)" was proposed to the president. |
| February, 2007 | Inamori Foundation donated a memorial hall to Kyoto University. |
| March, 2007 | A symposium on "Records of the Critical Moments" was held. A photo collection and a booklet about "Field Video Archive" were published. A video product was created. Image materials were investigated. [FVA] |
| May, 2007 | Inamori Foundation and the project staff discussed the unification of "Kyoto Prize Library" and "Kyoto University Digital Archive (tentative name)." A plan for "Digital Archive (tentative name)" was written. [DA] |
| October, 2007 | A meeting for the Digital Archive was held. A working group on the budget held a meeting for the budget request and held a talk with the executive vice-presidents of Kyoto University. [DA] |
| February – August, 2008 | A working group for the Digital Archive was set up and meetings (1st to 12th) were held. At the 12th meeting in August, the name of the Digital Archive was defined as "Research Resource Archive, Kyoto University." [DA] |
| September, 2008 – March, 2009 | Meetings (13th to 23rd) of the working group for Research Resource Archive were held. At the end of March, the working group was dissolved. |
| November, 2008 | Audio-Visual Station was opened at Inamori Foundation Memorial Hall. |
| January – March, 2009 | Preparatory meetings for Research Resource Archive were held (four times). A report was produced. |
| March, 2009 | Kyoto University Digital Archive System (KUDAS) started working. The Field Video Archive project offered several video and image materials to Audio-Visual Station. |
| May, 2009 | The all-university budget for 2009 was shown as preliminary. Research Resource Archive had been operated under the all-university budget until 2012. From 2013, the budget for operating the archive has been allocated to the Kyoto University Museum. |
| June, 2009 | A monthly meeting for Audio-Visual Station was started. (After March 2016, it was merged into a monthly meeting of Research Resource Archive.) A laboratory and a workroom for the archive were opened at the Kyoto University Museum. The archive began to work on its official rules. |
| July – September, 2009 | Preparatory meetings for an expert committee of Research Resource Archive in the Kyoto University Museum were held. (two times) |
| October, 2009 | The expert committee for Research Resource Archive at the Kyoto University Museum was set up. Since then, the committee has been called by the director of the Museum until October 2015. A public workshop on "History of Inter-University Research Institutes and Historical Films about Them" was held at Audio-Visual Station. (Since then, workshops, lectures, and screenings have been held in Audio-Visual Station.) |
| December, 2009 | A working group for Research Resource Archive at the Kyoto University Museum was renamed as "Research Resource Archive liaison committee." Since then, monthly meetings have been held. |
| March, 2010 | A discretionary decision of the president No. 1-27 "Stipulation about Research Resource Archive at Kyoto University," and an instruction No. 52 "Instruction Amending a Part of the Stipulation of the Kyoto University Museum," were issued. "Research Resource Archive Workshop: Passing on and Realizing the 'Spirit of Recording' at Kyoto University" was held. |
| January, 2011 | The first steering committee of KURRA was called. The president adopted a logo and an official abbreviation for KURRA. |
| March, 2011 | KURRA was opened to the public. KUDAS was made available on the Internet and at Audio-Visual Station. A commemorative exhibition was held at the Museum and Audio-Visual Station until the beginning of May. |
| October, 2011 | Reference books about KURRA were opened for viewing at Audio-Visual Station.(until AVS moved in February 2016) |
| October, 2011 | The first call for the application of Research Resource Projects. Since then, KURRA has been calling for new projects every year. |
| January, 2012 | The first expert committee of KURRA under the steering committee was called. |
| February, 2012 | Proposed Research Resource Projects were reviewed and selected for implementation at the third steering committee meeting of KURRA. Since then, the steering committee has decided which projects will be implemented. |
| 9th March, 2012 | The first KURRA workshop was held. |
| March, 2013 | Conservation shelves, a dry-cleaning box (for cleaning materials) and a freezer(for low-temperature fumigation) were installed in a north workroom of KURRA.(The north workroom was used until March 2017.) |
| March, 2013 | The second KURRA workshop was held at Audio-Visual Station. (a lecture by Mr. Hiroyuki Yoshioka, who was a movie-film repairer) |
| September, 2013 | Kyoto University Digital Archive System was approved as a service provider of the Academic Access Management Federation in Japan (nickname: GakuNin). |
| October, 2013 | Renewed the thin client system for Audio-Visual Station. |
| May, 2013 | An interview session was held with Masao Kawai, Professor Emeritus of Kyoto University. (Interviewers: Professor Juichi Yamagiwa and Terufumi Ohno, Director of the Kyoto University Museum. At Wildlife Management Research Center, Hyogo) |
| 4th February, 2014 | The nickname and logo of the Kyoto University Digital Archive System were selected from public applications.(The nickname was chosen as "Peek.") |
| April, 2014 | The "Researcher's mode" of Peek was released. Audio-Visual Station started lending its video content within Kyoto University. (for lectures and events) |
| 5th June, 2014 | A symposium "Video Recordings of Academic Materials and Activities: Taking into Account the Development of Media" was held at Audio-Visual Station. |
| March, 2015 | KURRA office was moved from the fourth floor of the north wing to the fourth floor of the south wing of the Kyoto University Museum. |
| 3rd August, 2015 | Renewed an application guide for Research Resource Projects. |
| 10th February, 2016 | The third KURRA workshop on "Farewell and New Encounter with the Audio-Visual Station: From the Inamori Foundation Memorial Hall to the Kyoto University Museum" was held. |
| 27th February, 2016 | Audio-Visual Station was temporarily closed. (Its operation at the Inamori Foundation Memorial Hall ended) |
| April, 2016 | Renewed the "Public mode" interface of Peek. |
| 28th April, 2016 | Audio-Visual Station was moved from the Inamori Foundation Memorial Hall to the Kyoto University Museum. |
| 4th August, 2016 | The fourth KURRA workshop was held. (Three guests from the University of Tokyo Archives were invited.) |
| 21st March, 2017 | The fifth KURRA workshop on "Preservation and Use of Academic Archival Materials and Maintaining the Environment: Information, Space, and Operations" was held. (Guests: Takayuki Ako of Tokyo Tech Museum and Archives, Shunsuke Yamashita of The Hokkaido University Museum) |
| 15th November, 2017 | The sixth KURRA workshop on "Information Infrastructure for Management of Academic Resources Including Archival Materials" was held. (Guests: Takayuki Ako of Tokyo Tech Museum and Archives, Yoshihiro Takata of Kanazawa University Information Media Center, Hiroshi Horii of AMANE.LLC) |
| 24th November, 2017 | Resumed the screening of documentary films from Audio-Visual Station at Muse Lab, the Kyoto University Museum. |
| 27th September, 2018 | The seventh KURRA workshop on "Research Institute for Islands and Sustainability, University of the Ryukyus: Toward Development of Research Resource Database" was held. (Guest: Takanori Sato of Research Institute for Islands and Sustainability, University of the Ryukyus) |
| 1st April, 2019 | The new version of Peek has been officially released. |